Find here a live report of all important topics regarding Disneyland Paris news in the context of the coronavirus outbreak in France since 2020 and during 2021. This page is updated in real time as soon as new events and communications are shared or known.
Some frequent questions are answered at the end of the post :
Disneyland Paris LIVE opening status
Updated on the 15th of avril 2021 :  Disneyland Paris is currently closed
The Paris Disney Parks have been closed for a temparay closure since october 2020.
Disneyland Paris live news
Find beliow Last updates, day per day :
13th of march 2020, End of day
During the night, a new status has been shared by Disneyland Paris. In link with the new threshold (decreased to 100 persons) for public gathering decided by french goverment, the french Disney Parks are now closed :
 » the temporary closure of Disneyland and Walt Disney Studios Parks will begin Saturday, March 14 through the end of the month. »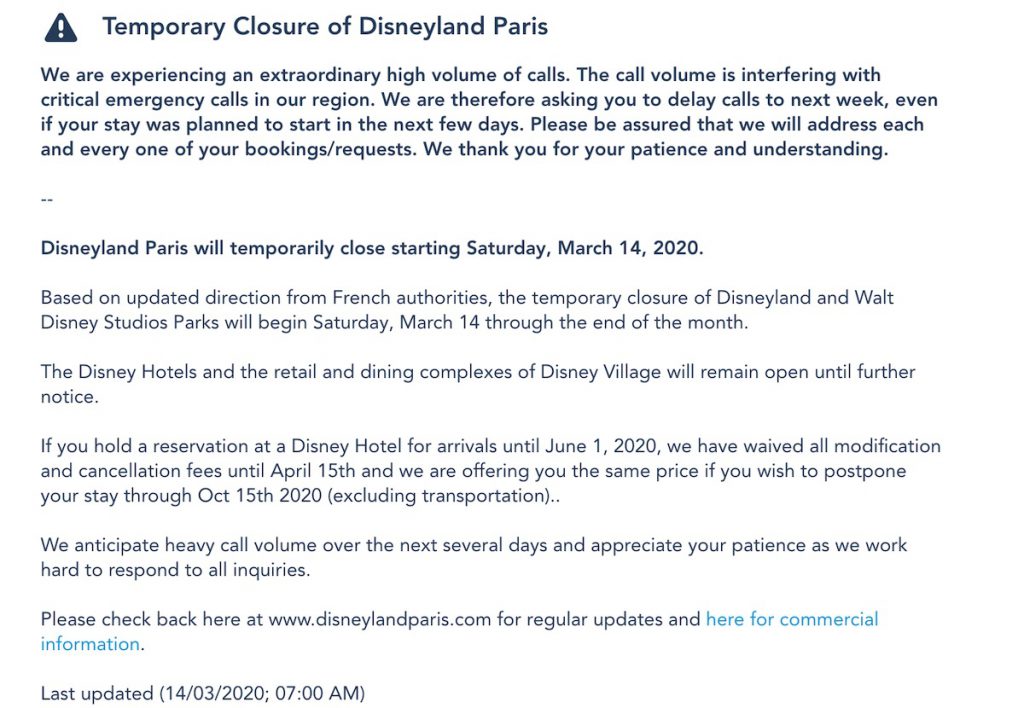 13th of march 2020
After many measures were taken in the last days, the decision is taken as a preventive measure : Disneyland Parks in Florida and Paris will be closed at the end of the business day on the 15th of march.
Therefore Disneyland Paris parks will be closed to guests starting monday 16th of march, untill end of the month (but of course this may change).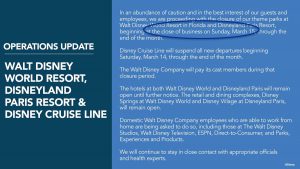 We recall that a a specific booking cancellation policy has been published  by Disneyland Paris, a ll details to be found here.
12th of march 2020
On top of the decisions taken in the recent days (see below), many new precautionary measures have been put in place in the Paris Disney Parcs, starting from today, untill the 14th of april. It has bee announced to all the 17 000 employees in a memo.
Here are the main changes taken in order to fight the coronavirus expansion :
All outdoor shows including parades, Illuminations and Star Wars Galactic spectacular are cancelled untill the 15th of april
Reduced capacity at indoor show where there may be hundreds or thousands of guests
Single Rider lines are closed
No more face character meet (Princess Pavilion is closed, replaced by Princess cavalcade 3 times par day), but fur charcacter presence is increased to mitigate the inconvenience
The capacity of larger restaurants and stores are  reduced (Café Hypérion, Chalet de la Marionnette, Billy Bob's Country Western Saloon, World of Disney, Studio 1)
A specific booking cancellation policy has been published today by Disneyland Paris, all details to be found here.
11th of march 2020
Two new Disneyland Paris employees have been tested positive to Covid-19, they were sharing a car with the first case found in Disneyland Paris and they stay at home now. All of the three had no contact with the public since they were working during night on maintenance work only.
10th of march 2020
Disneyland Paris has put in place some new restrictions in accordance with the last government measures announced on the 9th of march. The indoor shows are now restricted to a maximum of 900 persons and the « Pavillon des princess » in Fantasyland  has been reorganised to avoid close proximity between cast members with naked face and the public. A small parade with princess is now played and Mickey & Minnie can be met instead. Single Riders queues have been closed.

9th of march 2020
A Disneyland Paris employee has been diagnosed with COVID-19, the news came on the evening of the 8th of march. This employee is not in contact with the guests as he is working duroing night shift on maintenance team (see Le Parisien post, in French).
Disneyland Paris has since this first news communicated with a detailed document describing all measures taken to protect their workers and guests :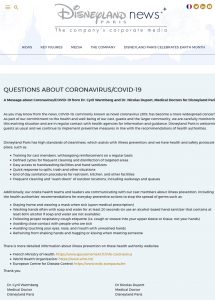 You are many to ask us this question regarding opening of Disneyland Paris in link with Coronavirus Covid-19 especially following recent decisions by french governement to cancel some public events .
So to the question « Is Disneyland Paris open despite Coronavirus Covid 19 ? », the answer is NO as of the 15th of april 2021 !
This second closure has started at the end of october 2020.
What was the impact of the Coronavirus « Stade 2″/ Stage 2 level in France  for Disneyland Paris
On the 1st of March 2020, Disneyland Paris Resort has shared the news that « They will continue operations as normal until otherwise directed »
Here is a translation of the full statement :
Disneyland Paris is open and welcomes its visitors as usual.

We're following the development of the situation in close collaboration with health authorities, whose recommendations we follow.

Disneyland Paris applies exemplary sanitation procedures, as well as high hygiene and cleanliness standards.
2020 / What about parks closure if « Stage 3 » is decided in France ?
Nobody can tell what impact it may have on parks opening since nothing is fixed in the « Stade 3 » rules, so this will be decided when moving to this Stage 3. But the french administration has explained that they want to reduce the social and economical impact of the coronavirus crisis. On the 13th of march, a new decision to reduce the max threshold for public gathering from 1000 to 100 has put the country in a similar to Stage 3 situation.
As a result, Disneyland Paris and Futuroscope are now closed.
2020 / What about adjustments to booking and cancellation policies at Disneyland Paris ?
Some specific policies regarding the hotels stays and bookings have been published on the 12th of march by disneyland Paris. In order to mitigate the impacts of the Coronavirus outbreak, no cancellation or modification fees will be applied temporarily.
Here they are :
If you hold a reservation at a Disney Hotel for arrivals until June 1st 2020, we have waived all modification and cancellation fees until April 15th if you wish to postpone your date of arrival until Oct 15th 2020.

Any adjustments to our cancellation and modification policies for arrival dates after June 1st 2020 will be determined at a later date.

For all new reservations made through April 15th 2020, you will benefit from free cancellation for arrivals before Oct 15th 2020, excluding transportation (Transport carriers' modification/cancellation policies will apply).
This policy may be modified at any time without notice. Please check this page regularly for updates.